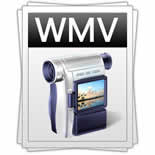 WMV stands for Windows Media Video, which is a compressed video format developed by Microsoft. It allows users to view movies and other video programs on their personal computers. WMV files can be played on all of the latest versions of Windows platform. Because WMV is a very closed source with unmanipulated codec, and it is not suggested for editing.
WMV can be used for local playback. The information and data that is stored by WMV format can be delivered over a lot of network protocols. And it has many advanced multimedia capabilities: scalable media types, component download, multiple languages support, document and content management, extensible media types, stream prioritization as defined by the author.
The original codec of WMV was created as the competitor to RealVideo. It was for Internet streaming applications at the beginning. Later, other WMV codecs appeared, they are WMV Screen, WMV Image and cater for specialized content. WMV can be regarded as a generic name of the solution of Microsoft video encoding. It is not necessary to say which technology it uses, as Microsoft has used a special MPEG-4 video encoding technology to WMV version 7. The society of Television Engineers (SMPTE) and Motion Picture made standards, however, WMV 9 also got the applications of some physical delivery formats, like HD and Blu-ray DVD.
The latest version of WMV is WMV10, which is created in 2005 and is not very similar to MPEG-4. The latest version of Windows Media Player Microsoft Windows Media Player 9 was developed especially for Mac OS X. Flip4Mac WMV. The player is also known as Microsoft Windows Media Component for QuickTime, with the ability to play WMV files both on Mac and Windows.
There are many programs that can be used to open WMV files:
Windows operating system: Roxio Creator 2010, CyberLink PowerDirector 8, CyberLink PowerDVD 9, Microsoft Windows Media Player, Web browser with the Windows Media Player plugin
Mac operating system: Microsoft Windows Media Player, Mac WMV plugin, Web browser with theFlip4, Mac WMV Components Apple QuickTime Player with Flip4