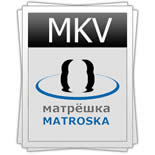 MKV is an open standard free container format, which is used to carry audio, video, picture and subtitle tracks inside a single file, although it is not a regular audio and video compression format. In practical, if you often download videos by BitTorrent, it is a common format which you will always encounter.
Its design is futuristic. This designing method allows it to support a lot of audio, video, and subtitle compression formats. Like other modern multimedia formats in the present market, MKV is a cross-platform for both audio and video multimedia. It has the streaming capability over the Internet. And its DVD-like menu system is the most shining feature.
An MKV file includes both compressed video and audio streams, and an encoder as well. It is similar to MOV, ASF, and AVI formats, which includes SSA, SRT, or USF (Universal Subtitle Format) subtitles. And it also supports for VobSub subtitles of DVDs.
MKV is designed to be the leading standard for multimedia container formats. It is a Matroska file, which is an open source container, with the license source code of GNU LGPL. The aim is to create a unifying or universal format used to store multiple audio and subtitle tracks in the same file. The big benefit of this format is that it is an entirely open source.
There are many programs that can be used to open MKV files:
Windows operating system: BS.Player, DivX Player, Matroska Splitter, Arpa Kolla Player, Media Player Classic, Core Media Player with CDL plugin, NERO Show Time with K-Lite Codec Pack, Microsoft Windows Media Player with Matroska DirectShow pack
Linux operating system: VideoLAN VLC media player
Mac operating system: MPlayer, DivX Player, Roxio Popcorn 4, VideoLAN VLC media player, Apple QuickTime Player with the Perian component installed
Pocket PC: CorePlayer Mobile
Besides, MKV files can also be played on Palm and Symbian.